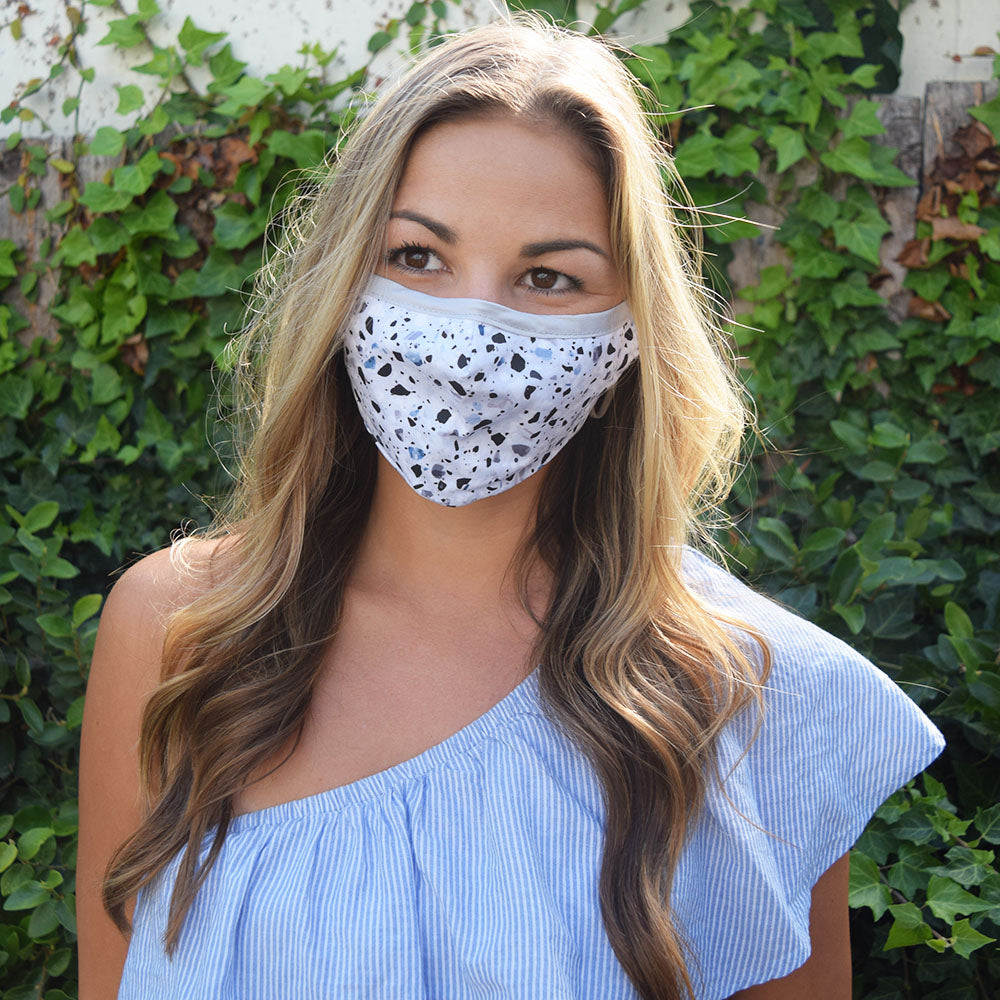 Face Mask Terrazzo
Regular price
$ 15.99
Sale price
$ 5.99
Save $ 10.00
/
---
We've got you covered! These washable, reusable, non-medical, 100% cotton fashion face masks include two PM2.5 filters, filter pocket, adjustable elastic ear straps, and integrated metal nose piece. Adult fun printed masks are one size fits most and can be adjusted to create a comfortable, "custom fit." Keep in your bag or car for easy use to wear to work, the grocery store, and out in public areas.
Stand out features:
100% multilayer, breathable cotton material
Adjustable, elastic ear straps
Integrated metal nose bridge
Pocket to insert filter
Two disposable PM2.5 Filters
100% woven cotton outer & inner machine washable cloth.
Comfortable, soft-touch elastic straps for long-term wear.
Cloth measures approximately 8 ½ " L x 4 ½ " H + 1 ⅝ " chin H. This mask is size one size fits most. This style is recommended for adults and older teens. This collection will NOT fit small children.
Each mask comes with two PM2.5 Filters. Tear along the perforation to separate filters inside of the clear pouch. PM2.5 Filters limit airborne particles and avoid unfiltered air flowing through the mask. We recommend filters be replaced frequently, every 7 days at minimum. Filters cannot be washed/cleaned and should be disposed of. Insert one filter in the back pocket of the cloth mask. Filters feature 2 layers of non-woven fabric, 2 layers of meltblown filters, and 1 layer of carbon activated fabric. NOTE: THESE ARE NOT N95 FILTERS.
Ideal for everyday use – indoor/outdoor, can be utilized while traveling, running errands, attending appointments, etc.
This is not an FDA approved product. This product is not intended for use in a medical setting. Does not prevent the user from contracting viruses, including COVID-19.
This mask should not be placed on young children under age 2, anyone who has trouble breathing, or is unconscious, incapacitated or otherwise unable to remove the mask without assistance.
Final Sale. Due to the nature of this item, we cannot accept exchanges or returns.
Please wash masks frequently. Masks are reusable and can be safely machine washed with regular detergent on the gentle cycle or hand washed if preferred. Lay flat to dry. Filters are NOT washable; remove filter before washing. Please wash the cloth mask prior to wearing. Tie off ends or push the ear beads in towards the fabric before machine washing to ensure beads stay securely in place.
Please follow the steps below for best results.
Remove mask from packaging with clean hands.
Prior to use, machine wash on the gentle cycle or hand wash cloth mask and lay flat to dry. (Do NOT wash filters.) Tie off ends or push the ear beads in towards the fabric before machine washing to ensure beads stay securely in place.
Once cloth is dry, fold and insert included PM2.5 filter into the back pocket of the cloth mask. Make sure you separate the two filters by pulling apart at the perforation. Only one filter is needed at a time.
Place elastic straps around ears and pull mask all the way down under your chin. Mask will form a seal around nose and mouth area.
Tighten elastic straps by pulling the bead closer behind each ear so mask is form fitting around the face.
Adjust integrated metal nose piece so there are no gaps.
Avoid adjusting or touching mask once secure to prevent germ exposure.
Wear in public spaces. Breathe and talk through the mask normally.
Wash mask frequently. (Do NOT wash filters.)
Replace filters at least every 7 days. If worn for long periods of time, replace filters more frequently.