Best Seller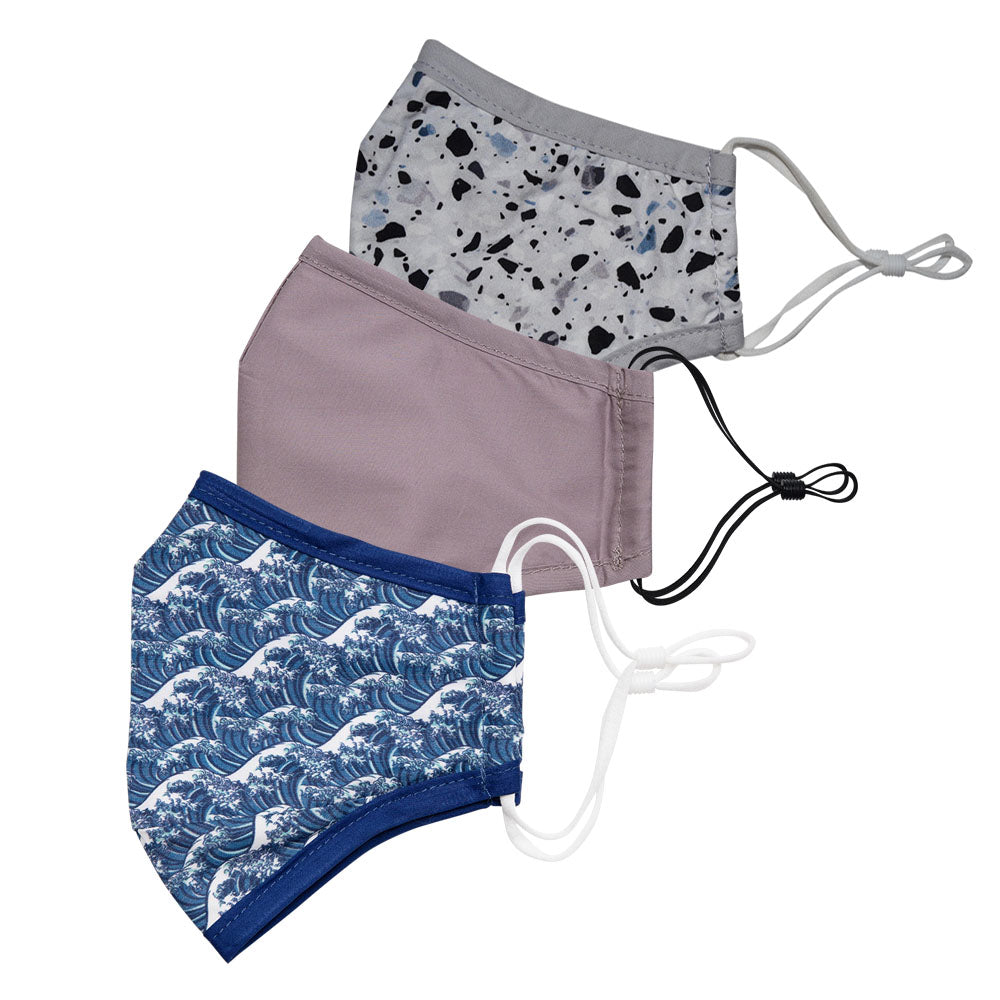 Best Seller
Best Seller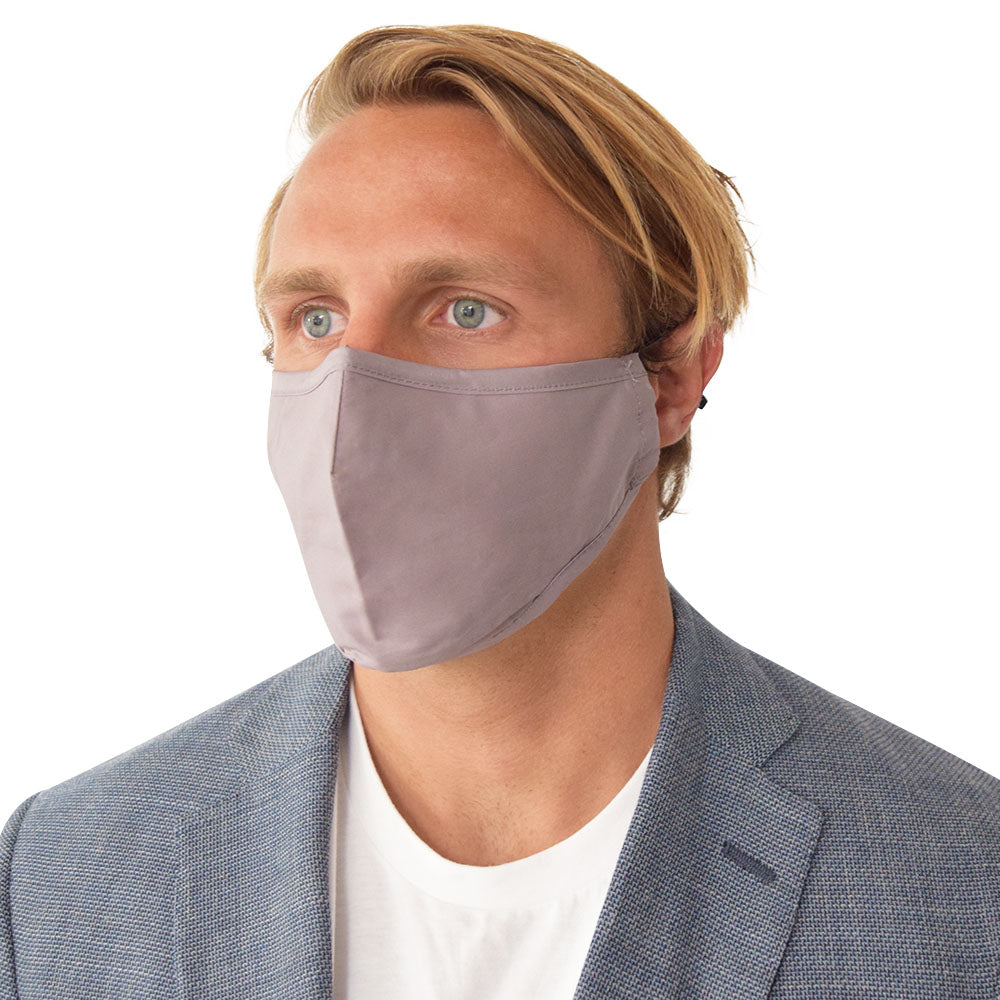 Best Seller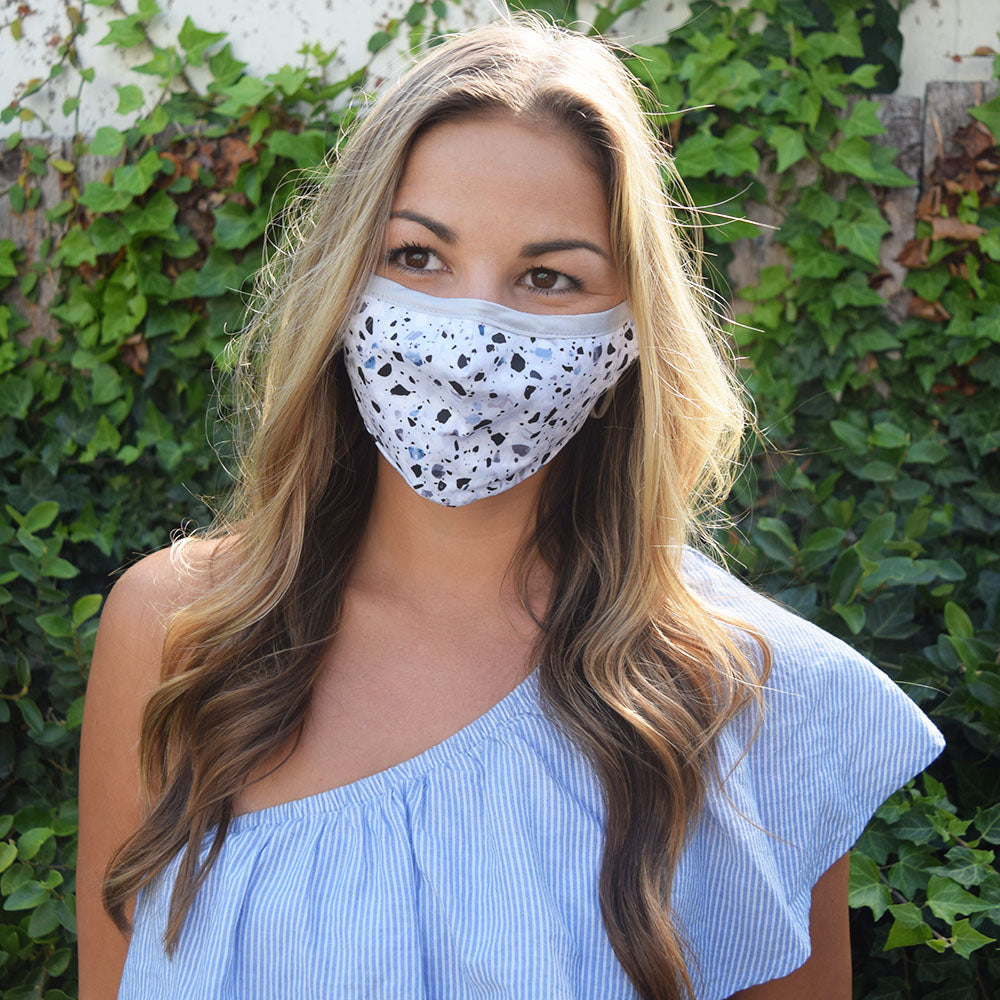 Best Seller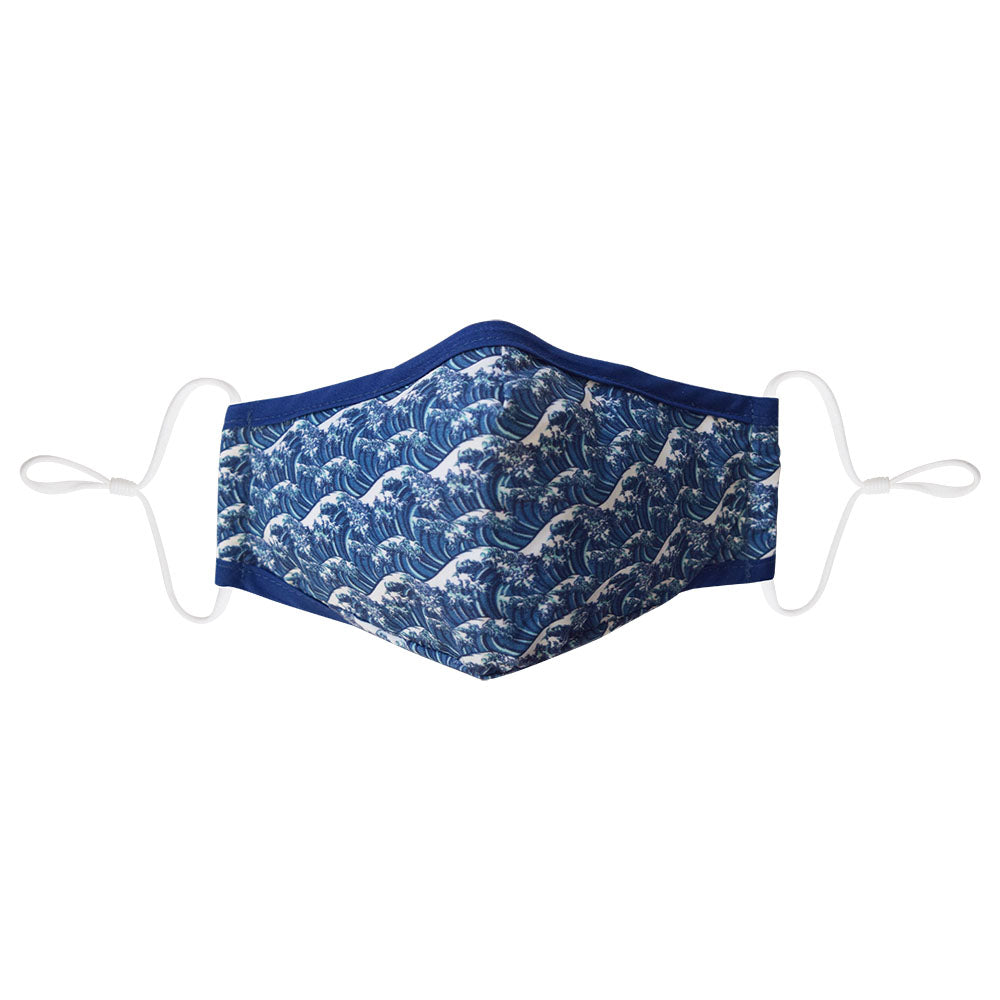 Best Seller
Best Seller
Best Seller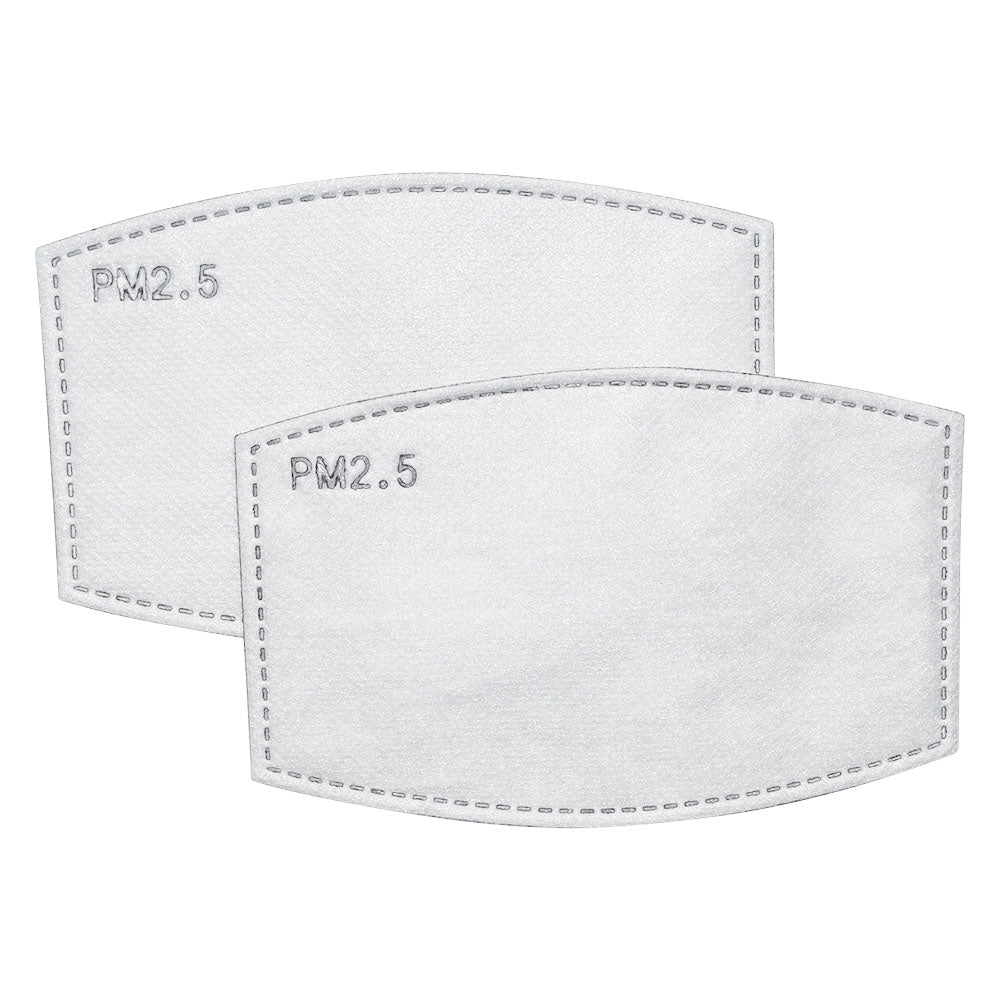 Best Seller
Face Mask 3 Pack
Regular price
$ 39.00
Sale price
$ 17.99
Save $ 21.01
/
---
3 Cotton Masks + 6 PM2.5 Filters 
We've got you covered! These washable, reusable, non-medical, 100% cotton fashion face masks include two PM2.5 filters, filter pocket, adjustable elastic ear straps, and integrated metal nose piece. Adult fun printed masks are one size fits most and can be adjusted to create a comfortable, "custom fit." Keep in your bag or car for easy use to wear to work, the grocery store, and out in public areas.
Stand out features:
100% multilayer, breathable cotton material
Adjustable, elastic ear straps
Integrated metal nose bridge
Pocket to insert filter
Two disposable PM2.5 Filters
Final Sale. Due to the nature of this item, we cannot accept exchanges or returns.
100% woven cotton outer & inner machine washable cloth.
Comfortable, soft-touch elastic straps for long-term wear.
Cloth measures approximately 8 ½ " L x 4 ½ " H + 1 ⅝ " chin H. This mask is size one size fits most. This style is recommended for adults and older teens. This collection will NOT fit small children.
Each mask comes with two PM2.5 Filters. Tear along the perforation to separate filters inside of the clear pouch. PM2.5 Filters limit airborne particles and avoid unfiltered air flowing through the mask. We recommend filters be replaced frequently, every 7 days at minimum. Filters cannot be washed/cleaned and should be disposed of. Insert one filter in the back pocket of the cloth mask. Filters feature 2 layers of non-woven fabric, 2 layers of meltblown filters, and 1 layer of carbon activated fabric. NOTE: THESE ARE NOT N95 FILTERS.
Ideal for everyday use – indoor/outdoor, can be utilized while traveling, running errands, attending appointments, etc.
This is not an FDA approved product. This product is not intended for use in a medical setting. Does not prevent the user from contracting viruses, including COVID-19.
This mask should not be placed on young children under age 2, anyone who has trouble breathing, or is unconscious, incapacitated or otherwise unable to remove the mask without assistance.
Final Sale. Due to the nature of this item, we cannot accept exchanges or returns.
Please wash masks frequently. Masks are reusable and can be safely machine washed with regular detergent on the gentle cycle or hand washed if preferred. Lay flat to dry. Filters are NOT washable; remove filter before washing. Please wash the cloth mask prior to wearing. Tie off ends or push the ear beads in towards the fabric before machine washing to ensure beads stay securely in place.
Please follow the steps below for best results.
Remove mask from packaging with clean hands.
Prior to use, machine wash on the gentle cycle or hand wash cloth mask and lay flat to dry. (Do NOT wash filters.) Tie off ends or push the ear beads in towards the fabric before machine washing to ensure beads stay securely in place.
Once cloth is dry, fold and insert included PM2.5 filter into the back pocket of the cloth mask. Make sure you separate the two filters by pulling apart at the perforation. Only one filter is needed at a time.
Place elastic straps around ears and pull mask all the way down under your chin. Mask will form a seal around nose and mouth area.
Tighten elastic straps by pulling the bead closer behind each ear so mask is form fitting around the face.
Adjust integrated metal nose piece so there are no gaps.
Avoid adjusting or touching mask once secure to prevent germ exposure.
Wear in public spaces. Breathe and talk through the mask normally.
Wash mask frequently. (Do NOT wash filters.)
Replace filters at least every 7 days. If worn for long periods of time, replace filters more frequently.
Q: Are the masks breathable? I have to wear a face mask when I go back to work for 8 hour shifts.  
A: Yes, we recommend our "Cotton Classics Collection" as well as our "Fun Prints Collection" that both feature 100% cotton masks. We recommend the cotton masks for longer hours or for wearing warmer climates for optimal breathability.
Please read below for reviews from our customers.
"I got 3 of the blush masks and wore one for the first time yesterday. I wore it for 9 hours and couldn't believe how comfortable it was! I'm a teacher and I've been trying out different masks because I know I'll be wearing them all day when we go back to school. The adjustable straps and nose wire made it fit perfectly and it didn't move around when I talked. It felt very secure and covered my face well. The people I was with kept pulling theirs up, but I didn't have to worry about mine. I could easily talk and move in it and it was just as comfortable at hour 9 as it was when I put it on. I highly recommend these masks especially to anyone who will have to wear them for a long time. I'm so happy with my purchase and will be ordering more!" -Kristen G. 
"Just received my masks today and love them! They're so comfy and cute. I own a salon, so we are in them all day long. Glad to help another woman business owner out. Thanks for the great products, and fast shipping! " -Liane C.
"Ordered twice! Love them, I work in the medical field (home health and hospice) and can now work more comfortably!" -Kathy E.
"...They fit really nice, very adjustable. I have a big head or so everybody tells me and I was able to adjust it to fit perfectly. Plus the pink ones are really cute, just saying. I think I'll buy another set. I'm a Hospice Home Care RN so I wear a mask at least eight hours every day…" -Franki O.
 "I have asthma and I have found them to be the most breathable and comfortable masks I have tried. I've tried several." -Rachel F.
Q: How frequently should I change the filters? Can filters be washed?
A: Two filters are included with each mask. Inside of the clear bag you will find both filters. Tear along the perforation to separate. We recommend changing out filters at least once per week. If worn for long periods of time, replace filters more frequently. Filters CANNOT be washed or cleaned. Please remove filters prior to washing your cloth mask.
Q: I want to order some for my husband. Will your masks fit his face?
A: Our masks are one size fits most. The full coverage fabric, adjustable ear straps, and bendable nose bridge allow men to shape our masks to fit their face. Our male customers love the fit of Hang Accessories' masks for working, golfing, running, and going on daily errands. We recommend men purchase the cotton masks in our "Cotton Classics Collection" as well as our "Fun Prints Collection." Please read below for reviews from our customers.
  "My husband says the masks he wears hurt his ears. Not these! He's so happy to have a comfortable one now...I love the filters. Still easy to breathe in. A++++. Thank you so much " -Linda L.
"Just placed my second order. Best masks! The only ones my husband will wear. Thanks!" -Shannon B.
"Best masks! The only ones my husband finds fit him comfortably. I find it so as well. Well made. Thank you for the great service! Just placed our second order." -Karla G.
Q: Will my glasses fog with your face masks? 
A: The metal nose bridge is adjustable and bends to form around your face. If the mask is worn properly and adjusted around your nose, air will be limited from flowing through the top. If there is no exposure, this will prevent glasses from fogging. We have many customers that have said if worn properly, they experience no fogging. *This is a natural phenomenon when wearing a mask, so some variables such as face size and where the mask hits under your eyes may differ.
Please read below for reviews from our customers.
"If you're someone who has a hard time finding masks that work with glasses, these are for you! I often found myself not wearing a mask at all, or taking it off every chance I got because I couldn't handle it. These are comfortable, breathable, stylish, very fitting, and didn't fog up my glasses! Thank you! I will be back to order more soon." -Kayla H.
"Love these masks! Shipped quickly. The design fits well and really limits glasses fogging." -Chris S.
"I have ordered many masks..but I have to say..by far..the BEST ones!!..I work in the healthcare field and wear glasses...they don't fog up!!..Works great...I will definitely be ordering more!!..and the customer service..prestine!!!" -Lisa B.
Q:  I have a small face and have had trouble finding a face mask that fits. Which style do you recommend? Can I order the child size?
A: Our masks are one size fit most. With adjustable ear straps and bendable nose bridge, you can create a more customized fit for your face shape. The cotton and satin masks can be adjusted to fit narrow faces. Many of our customers with smaller facial features have found these easy to adjust to their needs. Child masks may not provide adequate coverage for teens or adults. Please reference the dimensions for all collections to determine which styles will work best for you.
Please read below for reviews from our customers.
"I have a very small face and these ones are the best! I literally just keep ordering more!" -Jilllian J.
"I just received my masks and I love them ! I was having a hard time finding a mask that would fit me as my face is narrow. These fit me perfectly! Add that they are breathable and you have an excellent mask." -Dawn M. 
"I just ordered my second set. I've tried many other masks, these are hands down the best. Gave my boss one because every mask she tried fell off her face. (She's tiny) But these are adjustable and worked great!!" -Cyndi G.
 "Just received our masks today.... I was worried as I have a small head and none fit me very well... These are great and perfect... Ordered another 3 today so my granddaughter will have mask changes for her 1st job... Thanks for a great product Hang Accessories.. " -Brenda R.
Q: Can I wash my mask in hot water? I want to be certain I'm killing the germs.
 A: Yes, cloth masks can be machine washed on the gentle cycle or hand washed with hot, warm, or cold water. Please wash your cloth mask prior to wearing and after each use. We recommend laying out to dry. Make sure to remove the filter prior to washing. Secure adjustable beads while washing by sliding & tightening  beads closely to the fabric before placing the mask in the washing machine.
Q: Why is it important to wear a mask?
A: The Centers for Disease Control and Prevention (CDC) recommends people to always wear a cloth face mask when leaving the home in order to prevent the spread of COVID-19. In our effort to help protect our community, we are leveraging our supply chain to rapidly source and manufacture cloth face masks for the general public. In addition to using a cloth mask, CDC still strongly encourages hand hygiene, social distancing and staying home as the best ways to limit the effects of COVID-19*. Hang Accessories thanks the doctors, nurses, and healthcare officials for their tireless efforts and sacrifices during this time of uncertainty! 
*Please comply with CDC regulations for full preventative airborne transmission guidelines. Mask should be used in tandem with other precautionary measures and do not guarantee the user from contracting COVID-19. Please also visit the World Health Organization's website for their recommendations on civilian masks and overall Covid-19/Corona Virus safety practices.
Q: Can I order additional refill filters?
A: Yes, we include two disposable PM2.5 filters with every reusable mask. We also have refill filters for purchase in a 10 or 20 pack here.
Q: Where are they made?

A: We are a woman owned, small business out of San Diego, California. All of the current masks are designed in San Diego and produced in Mexico and China at our certified, trusted factories. Each mask purchase helps our US operation and American staff as well as contributes to our site wide proceeds being donated to Feeding America.